Informatie
Product description
Increase the operational efficiency and improve the yield of your electronics manufacturing lines with ESD Resin, a cost-effective solution to create custom ESD-safe production tooling.
Use ESD Resin to prototype and validate electronics production workflows, print static-dissipative parts that repel dust and powder, and create enclosures to protect sensitive electronics from static discharge
Support print resolutions: 100 µm and 50µm
Post-curing required
Why Choose ESD Resin?
Use ESD Resin to reduce risk and increase the yield on your manufacturing line by 3D printing custom tools, jigs, and fixtures for automotive, aerospace, electronics manufacturing.
Static-Dissipative

Protect your critical electronics from unregulated static discharge to prevent component failures.

High Toughness

With its high modulus and impact strength, ESD Resin is made to withstand operation on the production line.
Applications
ESD Resin is a cost-effective solution for producing static-dissipative parts designed to endure use on the factory floor.
Tooling & fixturing for electronics manufacturing
Custom trays for component handling and storage
Anti-static prototype and end-use components
Materials Properties
| | |
| --- | --- |
| Property | Post-cured at 70ºC |
| Surface Resistivity | 105 - 108 |
| Ultimate Tensile Strength | 44.2 MPa |
| Tensile Modulus | 1.937 GPa |
| Strain @ break | 12% |
| Notched Izod | 26 J/m |
| Heat Deflection Temperature 0.45 MPA | 54.2ºC |
| Heat Deflection Temperature 1.8 MPA | 62.2ºC |

Post-Processing
Form Wash Settings

Duration

20 Minutes in IPA / TPM

Notes

Do not leave ESD Resin in solvent for longer than 20 minutes, as excessive solvent exposure affects the quality of the final part. We recommend washing ESD Resin separately from other resins to avoid staining.

Form Cure Settings

Duration        Temperature

70° C               60 minutes

Notes

Follow the post-curing indications to achieve maximum material properties.
Specificaties
| | |
| --- | --- |
| Type: | Engineering Resin |
| Inhoud: | 1 Liter |
| Versie: | V1 |
| Kleur: | Zwart |
| Form: | Formlabs Form 3(+), Form 3B(+) & Form 3L |
| Resin Tank: | Form 3 Resin Tank en Form 3L Resin tank |
| Bouw Platform: | Formlabs Standaard Build Platform |
| Laag resolutie: | 100 en 50 micrometer |
| Form Wash: | Optioneel |
| Form Cure: | Optioneel |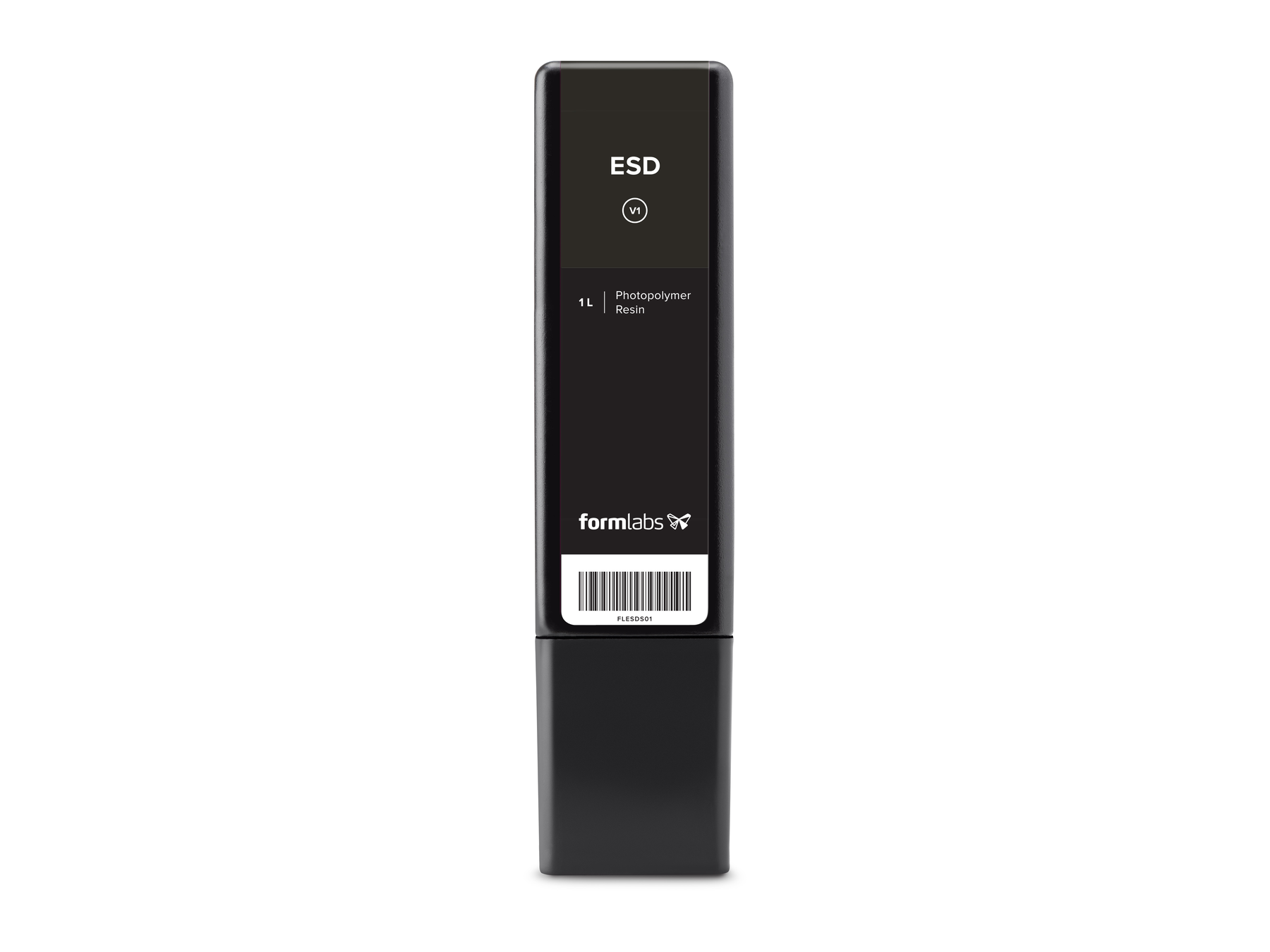 Reviews
Geen reviews gevonden
Help ons en andere klanten door het schrijven van een review