De nieuwe Raise3D Pro3 Dual
De Raise3D Pro3 is de meest doorontwikkelde 3D-printer in zijn segment, met verbeteringen die inspelen op de behoeften van agile- of kleine serieproductie van onderdelen, gereedschappen, reserveonderdelen of andere soortgelijke producten.
De Raise3D Pro3 beschikt over een bouwvolume van 300x300x300 mm. Gebaseerd op de bekroonde Pro2-serie, wordt de Raise3D Pro3 geleverd met verbeterde gebruiksvriendelijkheid, hogere algehele effectiviteit van de apparatuur en herhaalbaarheid van industriële kwaliteit, waardoor het de beste keuze in het segment is voor elke klant die 3D-printen gebruikt in agile- of kleine batchproductie.
Met betrekking tot materiaalcompatibiliteit is de Raise3D Pro3 - de printer met het grootste potentieel in zijn segment - in staat om elk filament te printen dat een verwerkingstemperatuur tot 300 ℃ heeft, inclusief PLA, ABS, HIPS, PC, TPU, TPE, NYLON, PETG, ASA , PP, PVA, Glass Fiber Infused, Carbon Fiber Infused, Metal Fill en Wood Fill, onder anderen. Klanten kunnen resultaten van topkwaliteit verwachten bij het gebruik van Raise3D-filamenten en filamenten van derden die zijn goedgekeurd onder het Open Filament-programma.
De Raise3D Pro3 kan eenvoudig worden geïntegreerd in een productieomgeving, kan verbinding maken met het 3D-printsoftware-ecosysteem van Raise3D, de slice-software ideaMaker,  ideaMaker Library en RaiseCloud.
Verwisselbare hot-ends van de Raise3D Pro3
De Raise3D Pro3 is uitgerust met een onafhankelijke modulaire extruder met een dubbele extrusiestructuur. Hierdoor kan de Raise3D Pro3 printen met een verscheidenheid aan filamenten, terwijl kans op verstopping wordt verminderd, en gemakkelijke demontage en vervanging van componenten mogelijk is, waardoor de uitvaltijd van de machine wordt verminderd. Het nieuwe verwisselbare hotend-systeem is ideaal voor gebruikers die vaak moeten overschakelen van normale/niet-schurende naar schurende materialen die verschillende soorten nozzles nodig hebben, of voor gebruikers die met hogere snelheden willen printen en verschillende nozzle-afmetingen willen gebruiken. Ze zijn ontworpen met een klik- en vergrendelingsmechanisme dat geen gereedschap vereist en elk is uniek geïdentificeerd om de gebruikstijd van de nozzle te volgen en vast te leggen.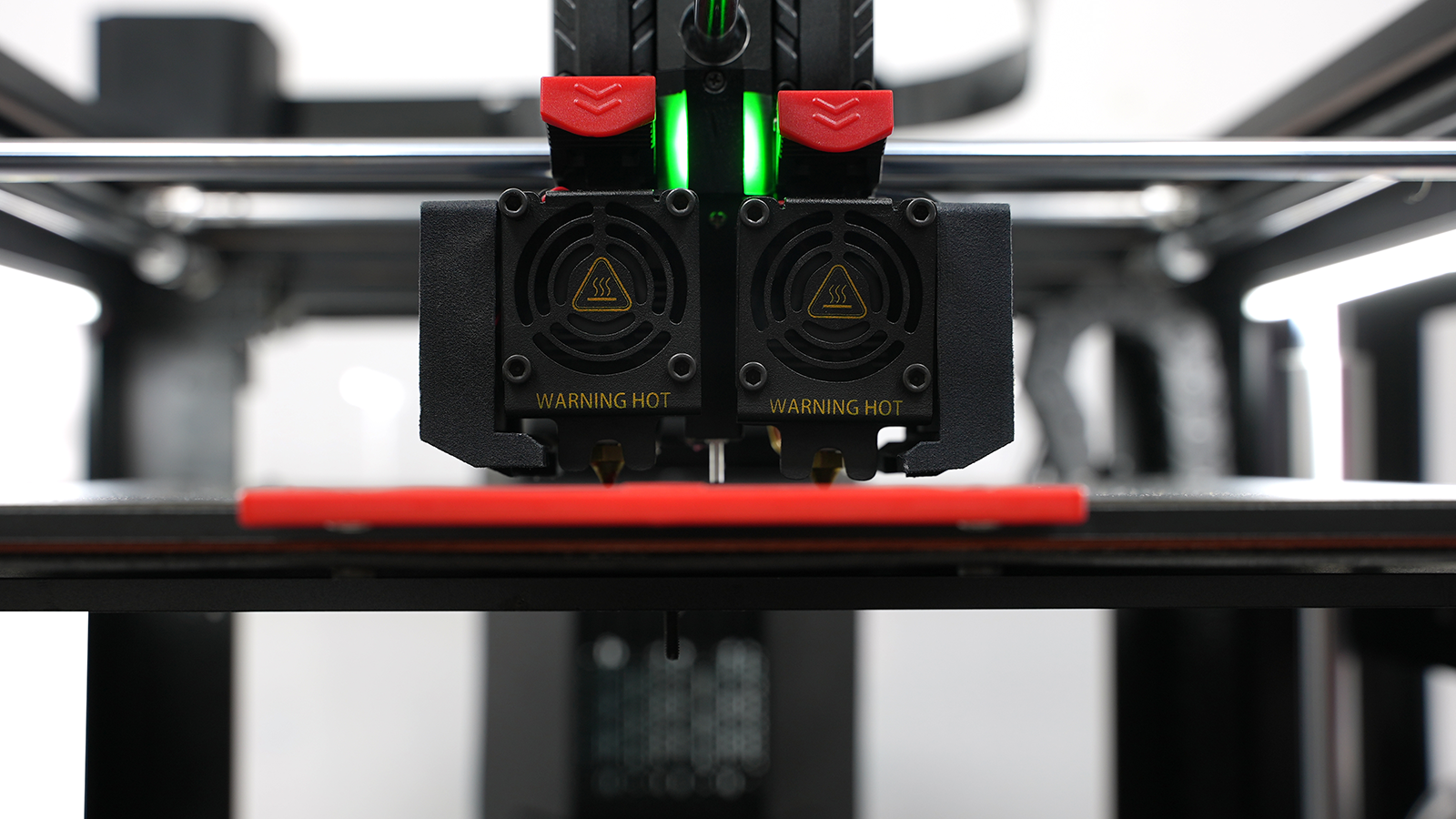 Automatische bedlevelling
Terwijl de Pro2-serie wordt geleverd met een fabriekskalibratie die minimale of geen kalibratie-inspanning vereist, gaat de Raise3D Pro 3 een stap verder in bruikbaarheid en wordt geleverd met Auto Bed Leveling. De nieuwe Auto Bed Leveling-functie is een relevant hulpmiddel voor diegenen die printers gebruiken voor productiedoeleinden en die een preventief onderhoudsprogramma willen implementeren om een ​​consistente kwaliteit van de uiteindelijke geprinte onderdelen te garanderen. Auto Bed Leveling minimaliseert de tijd die aan kalibratie wordt besteed en verhoogt de productiviteit.
Air Flow Manager
De Air Flow Manager van de Raise3D Pro3 bevindt zich aan de achterkant van de printer, waardoor de warmteafvoer en luchtcirculatie worden verbeterd en een stabiele omgeving in de printkamer wordt gecreëerd. Uitgerust met een HEPA-luchtfilter, kan de Air Flow Manager ook de lucht in de kamer filteren en reinigen. Zolang hij binnen het aanbevolen temperatuurbereik werkt, zorgt de Air Flow Manager voor de stabiliteit van de temperatuur in de kamer, wat zich vertaalt in een betere herhaalbaarheid van resultaten van topkwaliteit, onafhankelijk van de externe omstandigheden.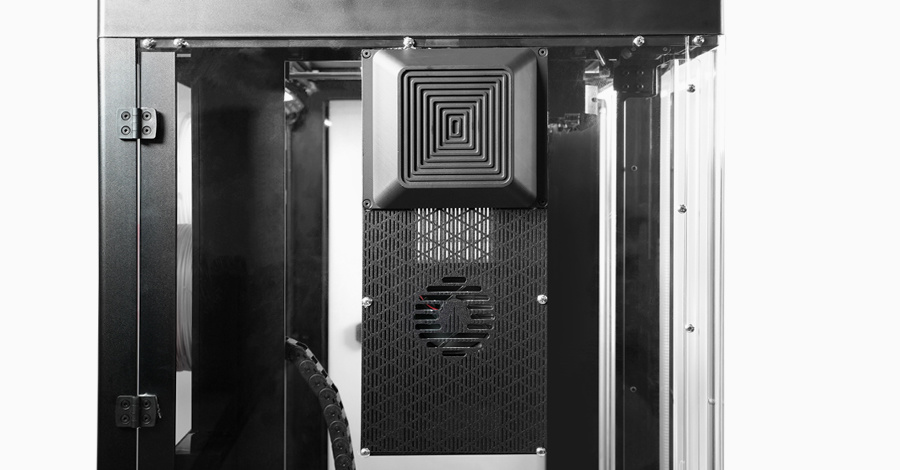 EVE Smart Assistant
De Raise3D Pro3 heeft een ingebouwd slim assistentiesysteem dat bekend staat als EVE. Net als bij 2D-printen gebruikelijk is, kan de EVE-assistent gebruikers helpen bij het nauwkeurig lokaliseren en oplossen van problemen die van invloed kunnen zijn op de uiteindelijke afdruktaak. Het heeft ook een functie die het printergebruik analyseert en gebruikers herinneringen stuurt voor geplande interventies om ervoor te zorgen dat printeronderhoud op tijd wordt uitgevoerd.
Raise3D is het eerste bedrijf in zijn segment dat een dergelijke functie introduceert, waardoor de bruikbaarheid van professionele 3D-printers wederom naar een hoger niveau wordt getild.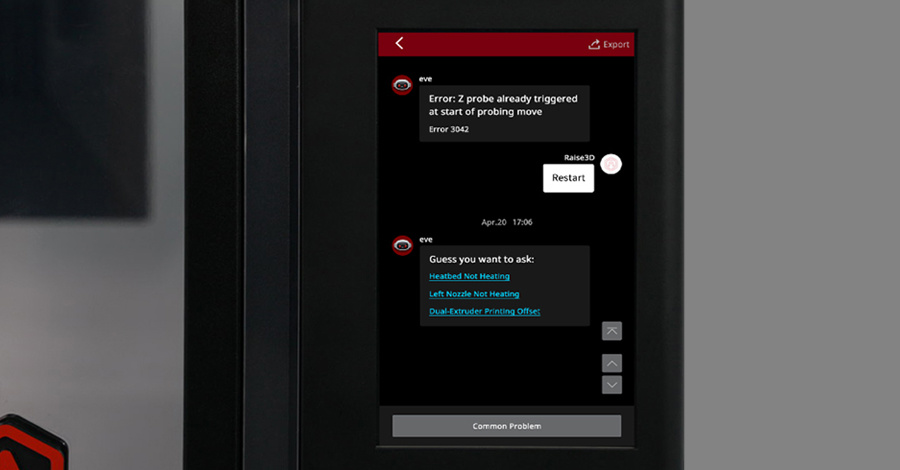 Andere verbeteringen van de Raise3D Pro3
Flexibele bouwplaat die het moeiteloos verwijderen van 3D-geprinte onderdelen mogelijk maakt.
De stijfheid van de Z-as is met 75% toegenomen om stabielere prestaties te leveren.
Automatische detectie, zodat wanneer een deur wordt geopend, de print onmiddellijk wordt onderbroken en hervat nadat de deur is gesloten.
Herstel na stroomuitval van de tweede generatie, om de afdrukstatus op te slaan in het geval van een stroomstoring en door te gaan met afdrukken vanaf hetzelfde punt nadat de stroom is hersteld.
Lichtgewicht kabel met digitale temperatuurmeting.
HD-camera met verbeterde beeldkwaliteit en belichtingsgevoeligheid.
De Raise3D Pro3 in actie
Neem contact met ons op voor een live- of online-demonstratie van de nieuwe Raise3D Pro3.