Formlabs Fuse 1+ 30W Printer 230V
Information
Formlabs Fuse 1 + 30W
Superior Print Speeds
Deliver high-precision parts within 24 hours thanks to a powerful, 30W laser that prints at scan speeds of up to 12.5 meters per second.

Industrial Grade Materials
Unlock exclusive, new materials and achieve higher performance on existing ones with active powder handling and an inert gas print option.

Zero Waste, High ROI
By optimizing packing density and powder recyclability, we've reached a major milestone: zero waste printing, enabling lower cost per part.
Specifications
| | |
| --- | --- |
| Printing Technology: | Selective Laser Sintering (SLS) |
| Build Volume: | 165 x 165 x 300mm |
| Layers Thickness: | 110 microns / 0.004in |
| Laser Type: | Ytterbium Fiber 10W |
| Laser Spot Size (FWHM): | 247 microns / 0.0097in |
| Laser Specifications: | Ytterbium Fiber IEC 60825-1: 2014 certified, 1070nm wavelength, Maximum 30 Watts 3.24 mrad beam divergence (nominal, full angle) |
| Bouw Chamber Dimensions: | Modular, compatible with Fuse 1 generation printers and Fuse Sift |
| Hopper Capacity: | 14.5L |
| Dimensions: | 68.5 x 64.5 x 106.5cm |
| Supports: | No supports |
| Minimum Access Dimensions (W × D × H): | 125.5 × 149.5 × 187cm |
| Printer Dimensions (W × D × H): | 64.5 × 68.5 × 107 cm (165.5 cm with stand) |
| Recommended Operating Footprint (W × D × H): | 145.5 × 149.5 × 167.5cm to allow access to the front and sides of the printer. |
| Stand Dimensions (W × D × H): | 59.6 x 60 x 58.4cm |
| Weight: | 120kg (without build chamber or powder) |
| Startup Time: | < 60 minutes |
| Operating Environment: | 18 – 28ºC |
| Internal Temperature: | Up to 200ºC |
| Temperature Control: | Quartz Tube Heating Elements, Resistive Air Heater |
| Air Handling: | Interface to external inert gas supply Pressure controlled two-stage filtration (Replaceable HEPA and carbon mediums) |
| Power Requirements: | EU: 230 VAC, 7.5 A (dedicated circuit) / US: 120 VAC, 15 A (dedicated circuit) |
| Galvanometers: | Formlabs Custom 2nd Generation |
| Radiation Information: | The Fuse 1+ 30W is a Class 1 Laser product. Accessible radiation is within Class 1 limits |
| Connectivity: | Wi-Fi (2.4GHz + 5GHz) Ethernet (1000 Mbit) USB 2.0 |
| Printer Control: | 10.1" interactive touchscreen, 1280x800 resolution |
| Alerts: | Touchscreen alerts and tracking SMS/email via Dashboard Live video feed with computer vision, Proactive maintenance alerts |
| Slicer Software: | PreForm Desktop Software |
| System Requirements: | Windows 7 (64-bit) and up, Mac OS X 10.12 and up, OpenGL 2.1, 4GB RAM (8GB recommended) |
| File Types: | .STL or .OBJ, FORM file output |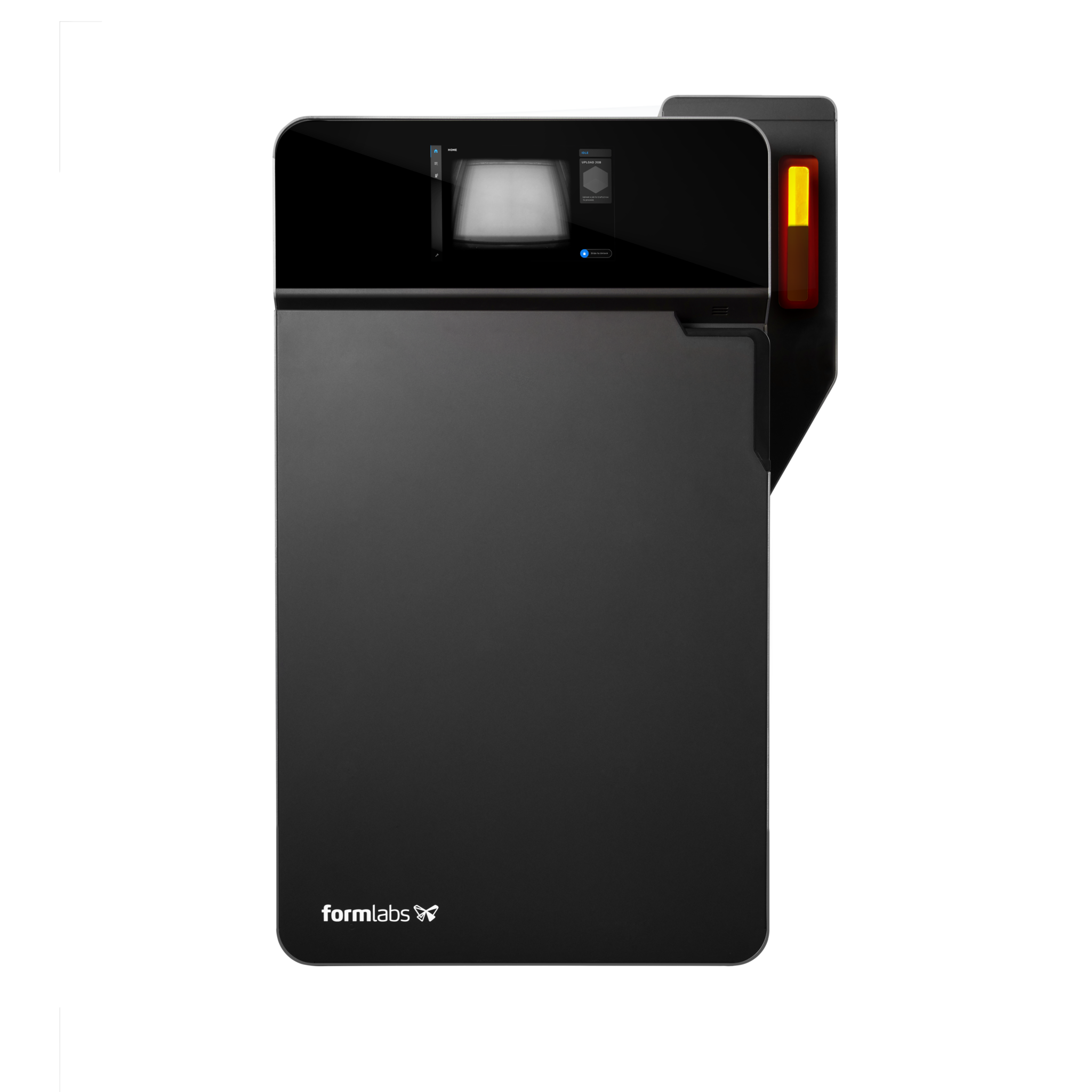 Reviews
No reviews found
Read or write a review