| | |
| --- | --- |
| EAN: | 921062661172 |
| SKU: | PF001-S-EU |
Information
The latest 3D printer Bambu Lab P1P inherits the proven kinematics and motion control system of the X1 series, as well as the rich sensors to ensure its reliability. It is capable of connecting the automatic material system (AMS) for multi-color printing. Great for beginners, professionals, or others who enjoy the fun of being creative, the P1P has been designed for easy setup and use in minutes. Additionally, it allows upgrading and customizing hardware with mod-friendly features for people to enjoy the fun of making their own one-of-a-kind 3D printer.
Upgrade-able and Customizable:
P1P can be upgraded with an auxiliary part cooling fan, chamber camera and LED light. The accessories must be installed by users.
The cooling fan and light require parts printed. The side panels can also be customized, printed, and installed by users see:
https://wiki.bambulab.com/en/p1/modplate-customization
Features:
Out of the Box printing experience. Set up in 15 minutes

High-speed CoreXY structure with 20000 mm/s^² acceleration

Upgradeable and customizable to make your unique printer

Multi-color capability

State-of-the-art electronics, including vibration compensation, pressure advance, Wifi connection, and camera
Included:
Bambu Lab P1P
Spare 0.4mm Hotend
Textured PEI Plate
Bambu Reusable Spool
1kg Bambu PLA Filament
Unclogging Pin Tool
Bambu Scraper
Nozzle Wiping Pad (x2)
Specifications
| | |
| --- | --- |
| Print Technology: | Fused Deposition Modeling (FMD) |
| Build Volume: | 256 x 256 x 256mm³ |
| Chassis: | Steel |
| Housing: | Printable |
| Feeder System: | Direct-drive |
| Extruder Gears: | Steel |
| Hot End: | All-Metal |
| Max. Hot End Temperature: | 300 ℃ |
| Nozzle Material: | Stainless Steel |
| Nozzle Diameter (Included): | 0.4mm |
| Nozzle Diameter (Optional): | 0.2mm, 0.6mm, 0.8mm |
| Filament Cutter: | Yes |
| Filament Diameter: | 1.75mm |
| Build Plate (Included): | Bambu Dual-Sided Textured PEI Plate |
| Build Plate (Optional): | Bambu Cool Plate, Engineering Plate, High Temperature Plate |
| Max. Build Plate Temperature: | 100℃ |
| Max. Speed of Tool Head: | 500mm/s |
| Max. Acceleration of Tool Head: | 20m/s² |
| Max. Hot End Flow: | 32 mm³/s @ABS(Model: 150*150mm single wall; Material: Bambu ABS; Temperature: 280℃) |
| Part Cooling Fan: | Closed Loop Control |
| Hot End Fan: | Closed Loop Control |
| Auxiliary Part Cooling Fan: | No, optionally available |
| Supports Third-Party Filament: | Yes |
| Supported Filament: | PLA, PETG, TPU, ASA, PVA, PET |
| Capable Filament: | PA, PC, ABS |
| Not Recommended Filament: | Carbon/Glass Fiber Reinforced Polymer |
| Air Filter: | Not available |
| Chamber Monitoring Camera: | No, optionally available, Low Rate Camera 1280 x 720 / 0.5fps, Timelapse Supported |
| Chamber LED: | No, optionally available |
| Door Sensor: | Nee |
| Automatic Vibration Compensation : | Yes |
| Automatic Bed Leveling: | Yes |
| Automatic Z-offset Calibration: | Yes |
| Bambu Micro Lidar: | No |
| Filament Run Out Sensor: | Yes |
| AMS: | No, optionally available |
| Filament Odometry: | Optional with AMS |
| Power Loss Recovery: | Yes |
| Dimensions(W×D×H): | 386*389*458mm |
| Net Weight: | 9.65kg |
| Input Voltage: | 100-240 VAC, 50/60 Hz |
| Max. Power: | [email protected], [email protected] |
| USB Output Power: | 5V/1.5A |
| Display: | 2.7", 192x64 Screen |
| Connectivity: | Wi-Fi, Bluetooth, Bambu-Bus |
| Storage: | MicroSD Card |
| Control Interface: | Button Control, Smartphone Application, PC Application |
| Motion Controller: | Dual-Core Cortex M4 |
| Slicer Software: | Bambu Studio, Support for third party slicers which export standard G-code such as Superslicer, Prusaslicer and Cura, but certain advanced features may not be supported |
| Slicer Supported OS: | MacOS, Windows, (currently unofficial) Linux |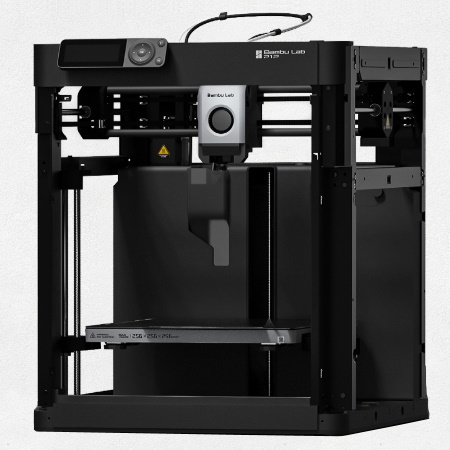 Reviews
No reviews found
Read or write a review