Formlabs Form Biomed Clear Resin
| | |
| --- | --- |
| EAN: | 0811294031164 |
| SKU: | RS-F2-BMCL-01 |
Information
BioMed Clear Resin van is een stijf en USP Klasse VI-gecertificeerd materiaal voor biocompatibele toepassingen waarvoor langdurig huid- of slijmvliescontact nodig is. Onderdelen die in dit materiaal zijn gedrukt, zijn compatibel met gangbare sterilisatiemethoden en zijn geschikt voor het vervaardigen van duurzame onderdelen en onderdelen die weinig waterabsorptie vereisen.
BioMed Clear Resin is een USP Klasse VI-gecertificeerde, lichtuithardende materiaal op polymeerbasis. Ontworpen voor de additieve productie van biocompatibele, heldere en stijve onderdelen van medische kwaliteit. Specifiek voor langdurig contact met het oppervlak (meer dan 30 dagen). Het kan gebruikt worden voor de productie van medische apparaten en 3D-printcomponenten die waterbestendig zijn, een hoge slagvastheid hebben en steriel moeten zijn.
Gebruikers moeten zelf controleren of de geprinte materialen geschikt zijn voor de specifieke toepassing en beoogd doel. BioMed Clear is een fotopolymeerhars gemaakt van een mengsel van methacrylesters en fotoinitiatoren.
Available for Form 3B, Form 2.
Not compatible with Form 3.
Supports print resolutions: 100 and 50 microns.
Post-curing required.
Compatible with any Form 3 Resin Tank. Requires Form 2 Resin Tank LT for the Formlabs Form 2.
Specifications
| | |
| --- | --- |
| Type: | Formlabs Dental/Medical Resin |
| Content: | 1 Liter |
| Version: | V1 |
| Color: | Transparant |
| Form: | Formlabs Form 2 & Form 3B |
| Resin Tank: | Formlabs Resin Tank LT and Formlabs Form 3 Resin Tank |
| Build Platform: | Formlabs Standard Build Platform |
| Layer resolution: | 100 and 50 microns |
| Form Wash: | Optional |
| Form Cure: | necessary |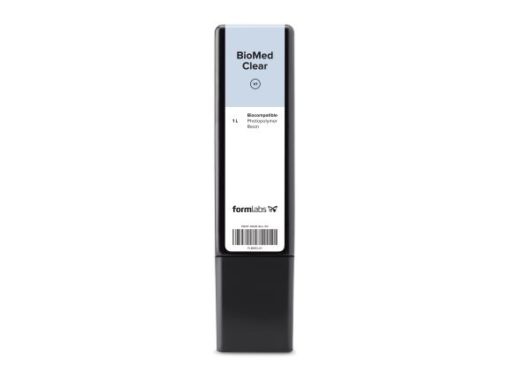 Reviews
No reviews found
Read or write a review