Formlabs Form Tough Resin
| | |
| --- | --- |
| EAN: | 0851976006806 |
| SKU: | RS-F2-TOTL-05 |
Marktleider in 3D Printing met het grootste assortiment

Hoogwaardige service en support

Gunstige verzendvoorwaarden en retourbeleid
Fysieke showrooms op diverse locaties in Nederland

On business days ordered before 14:00, tomorrow in house

Customer service from

10:00

to

17:00
Information
Using Tough Resin
Formlabs Tough Resin is our most durable, adaptive, and impact-resistant material. Similar to ABS, it is ideal for engineering prototypes and has been developed to withstand high stress or strain. This material is perfect when you require great impact resistance for rugged prototyping, and can also be used for snap-fit joints, living hinges and parts that require post-print machining. Tough Resin can be printed at 50 and 100 micron layer heights.
Toughness refers to a material's ability to absorb energy before fracturing. When a tough material yields, it will undergo some deformation rather than just shattering. In other words, tough materials have a little more "give" than brittle ones.
Toughness is also defined as the area under a stress-strain curve. Tough materials generally have a good balance of strength (the amount of stress a material can withstand) and ductility (the elongation or percentage strain). Because of this, the area under a tough material's stress-strain curve is much larger than that of a very strong material with low elongation. This has a direct correlation to the amount of energy each material can absorb before failure. Formlabs Tough Resin has lower stiffness than the Standard Resins while withstanding more elongation.
Ideal For
High-impact/high-stress components
Snap-fit functions and living hinges
Machining
Cyclic loading
Not suitable for
Very fine features or thin walls
Rigid or stiff prints
High-temperature applications
Constant loading
Comparison with Other Materials
 
Formlabs
Tough TOTL021
Formlabs
Tough TOTL012
EnvisionTEC ABS-tuff3
3DS Visijet SL Tough4
Stratasys Digital ABS5
Tensile strength
41.3 MPa
52.2 MPa
48.6 MPa
41.0 MPa
55-60 MPa
Elongation
31%
31%
7%
18%
25-40%
Notched Izod
51.1 J/m
51.1 J/m
no data
43.8 J/m
65-80 J/m
Tough Resin has a low Tg (glass transition temperature) and low heat deflection temperature. This means that thin parts under constant load may deform over time. Tough Resin is not intended for applications at elevated temperatures. For best results, alter your model to reinforce or thicken parts. You can use the Design Guide as a reference.
Finishing
Wash your tough parts as recommended for parts printed with Standard Resins:
Cover the rinse tub, shake for 2 minutes and let your part soak for 10 minutes.
Move your part to the second rinse basket, shake and repeat for a total soak time of 20 minutes.
Remove part(s) from rinse bucket and allow to air dry.
The Tough Resin coloration comes from a pigment, not a dye, so tough parts will not color the IPA.
Tip
Especially with tough resin, leaving parts in IPA too long may cause the parts to become flexible and weak.
Post-cure your part
Tough parts require about 30 minutes of post-curing in the Formlabs Form Cure or in a similar device. Time to reach full post-cure may also be longer for larger parts. Your tough part will not reach its full mechanical properties without a thorough post-cure.
Specifications
| | |
| --- | --- |
| Type: | Engineering Resin |
| Content: | 1 Liter |
| Version: | v5 |
| Color: | Semi-transparant blue |
| Form: | Formlabs Form 2, Form 3 & Form 3L |
| Resin Tank: | Formlabs Standard Resin Tank and Formlabs Form 3 Resin Tank |
| Build Platform: | Formlabs Standard Build Platform |
| Layer resolution: | 100 and 50 microns |
| Form Wash: | Optional |
| Form Cure: | Optional |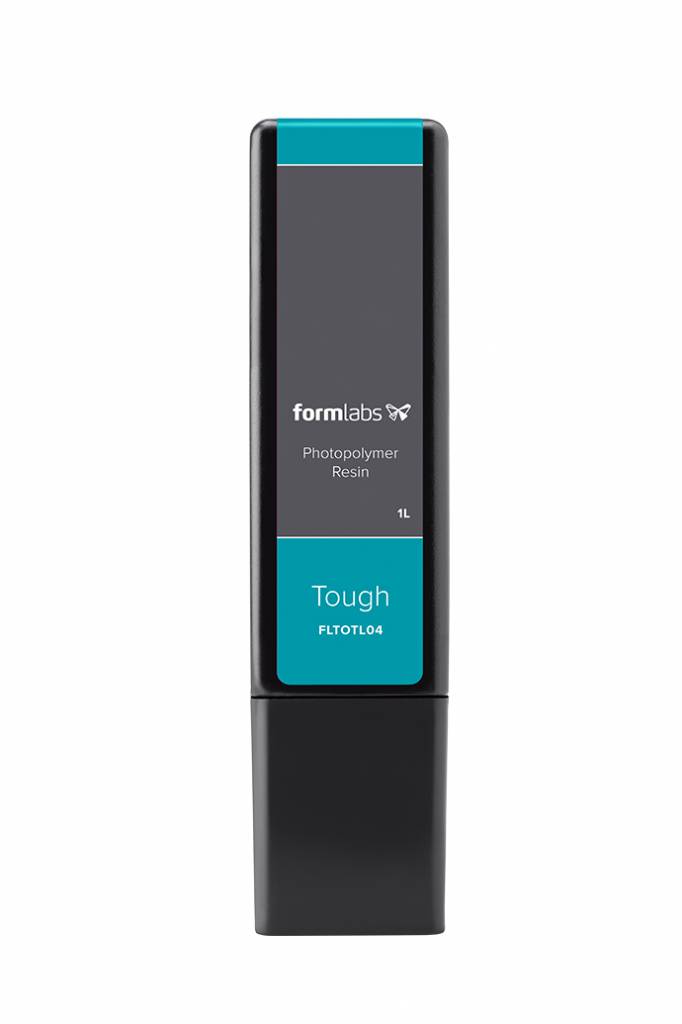 Reviews
No reviews found
Read or write a review